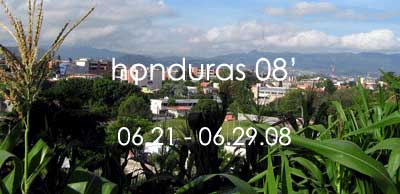 We are so pleased to officially announce that Lazar Ministries has teamed with MedMissions and the Christian Chiropractors Association (CCA) for our Honduras '08 healthcare missions trip.
Date: June 21-29, 2008
Cost: $850.00 + Airfare and taxes
Includes: Food, lodging, supplies, and in-country transportation
Location: Tegucigalpa, Honduras
Deposit: A $100.00 deposit is due by October 1, 2007
Open To: D.Cs and D.C. students in 8th trimester (outpatient clinic status) as of June 20, 2008. Since this trip involves a very heavy evangelistic emphasis, it is limited to those who have a living, growing relationship with Christ.
We will be working with the Honduran Christian Medical Society (ACMEH) once we arrive. Our team will be providing all the chiropractic care. Students must have sufficient D.C. supervision. For those who are in need of financial assistance, we will be accepting donations. All donations will be made through either the CCA or MedMissions, both of which are 501c3 tax exempt, and can issue tax donation statements. This means all donations received are tax deductible.
Please pray that God would prepare your heart, the hearts of those we will touch, and that He would make our paths straight.
"Lord, thank you for this wonderful opportunity to use the hands with which you have blessed us. May You continue to open doors we could never open ourselves. Thank you for loving us!"
As a mentor of mine once prayed over my life, "Lord, I will do whatever you want. I will go wherever you want. Just tell me."
Let's put our faith into action!